2017 was a slow year for DX & WAS.  I suspect due to a combination of working most of the easy ones and a rapidly declining Solar Cycle 24.  It is hard to imagine how poor things will be for the next three years, until Cycle 25 starts to pick up (If Cycle 25 ever happens!! The magnetic field strength of the sun has gotten so low it is approaching the point where it can no longer sustain spots. Because of the weak magnetic flux, there are some that are predicting we might not have another solar cycle until 2100.)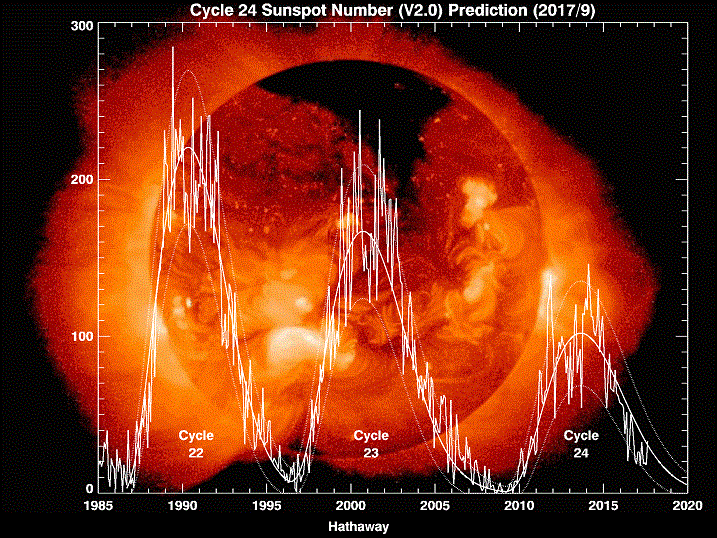 I'm finally starting to keep track my 160-meter activity, as I've made some progress during 2017.  My 160-meter DXCC count is up 9 countries to 38, and WAS is up to 42 from 37.  I have worked every state except AK and HI (I do wish more people would confirm using LotW), and I've heard HI, so there is hope that I might someday get 160-meter WAS.
I've finished the year with 262 confirmed DXCC contacts, an increase of 4 from the end of 2016, and my Challenge count is now up to 1,262 band-points, an increase of 27.  Getting to 1,500 will be hard.  If one excludes 160-meters, that would be 8 bands requiring 188 countries per band — even with 160-meters, it is 167 countries per band.  Bottom line is I suspect I won't be getting to 1,500 band-points until close to the peak of the next solar cycle in 2024, assuming Solar Cycle 25 starts around the end of 2019.
12-meter WAS still continues to be elusive, and it would be highly optimistic to think I would work WV any time soon as there has been almost no 12-meter activity.  I'm sure that there are openings, but there aren't enough people on the band to make it show up on the spotting networks.  So I'll be stuck at 7-band WAS for the foreseeable future.
My Satellite activity as inched up a bit:  WAS is now up two to 24 and DXCC is up one to 6