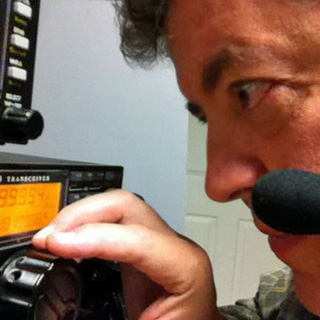 Bob (The OM), was first licensed as a novice, WN4SON, in October of 1970, while in living in Huntsville, AL.  On Jan 22, 1971, he became WB4SON with an upgrade to Advanced Class.  After moving to Niskayuna, NY, the WB4SON call-sign became a secondary license, remaining behind in Alabama for a few years.  A new primary license, WB2ZIB, was issued in January of 1974.  That call sign was used until December of 1979, when upon graduation from college, a move was made to Warwick, RI, and WB4SON became the primary license again.
My father and I both made a trip to Hartford CT on October 26, 1982, took the Extra Class exam together, and were given a private tour of W1AW and the ARRL by Parry Williams (W1UED).  To this day I remember having lunch with my father at Friendly's and having the best fish sandwich of my life after the exam.  The next day we shared our first Extra Class QSO on 3508 KHz.  We continued sharing our  love of ham radio until his passing 17 years later.
About North Kingstown, RI
The Town of North Kingstown is a residential community of approximately 27,000.  It incorporates North Kingstown, Saunderstown, and Wickford Village.  It is about 58 square miles, approximately 25% of which is water.  It is located on the western side of Narragansett Bay.  Gilbert Stuart, who painted the portrait of George Washington that appears on the one dollar bill, was born in Saunderstown.  Wickford is a small trading village settled in 1637.  It has one of the largest collection of homes from the late 1600's and early 1700's that can be found in North America.  Its beautiful harbor is a destination for sailors worldwide.
About the Masthead Photograph
The Masthead Photograph (Heading) was taken in Wickford Harbor.  We kept a small sailboat in Wickford Harbor for many years and every time we took it for a sail we would reflect on how lucky we were to live in such a beautiful place.  The photograph was taken by a good friend of mine, Walter Sulyma.  He's an IT guru by trade, but a photographer by heart.  If he isn't at work, more than likely he can be found somewhere on the waters of Narragansett Bay.