The QSL rate for satellite operators is disappointingly low, even for those using LotW.  This means it takes more time to obtain various operating awards.
Today, I finally qualified for the AMSAT Oscar Satellite Communications Achievement Award, which is 20 different states and countries confirmed.  George, WA5KBH in Louisiana happened to be the 20th different confirmation on FO-29 SSB today.  Thanks for uploading your satellite activity so quickly to LotW!
Stations in the US that had a part in this award are: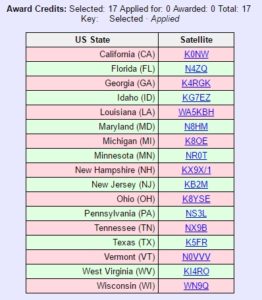 DX stations that had a part in the award are:

Thanks everybody!