While I don't generally use my IC-9100 on HF anymore (keeping it mostly for satellite work on VHF/UHF), I do follow the Yahoo IC-9100 Discussion Group, and a great number of people post seeking help using the IC-9100 with digital modes.
The most common misconception is "How do I hook my IC-9100 and SignalLink USB up?"  Well, the answer is you don't.  The IC-9100 has everything it needs to run digital modes built into the radio (basically the equivalent of a SignaLink USB is built into the radio).  You use a single USB cable (less than 1 meter in length) to gain access to rig control, and soundcard radio audio in/out.
The second most common misconception is somehow becoming convinced that you need to use "USB" (as in Upper Side Band) as the RX/TX mode. That's correct for a microphone, but very bad practice for digital modes.  You want to use "D-USB" (as in Digital Upper Side Band).  This will ensure that the compressor is turned off, along with the RX and TX tone adjustments that would wreck havoc with your signal quality.
And the most common issue is "I can decode signals fine, but nothing comes out on transmit" or "My rig doesn't enter transmit".  In the latter you need software that will send a CAT command to the radio that will enable/disable transmit, or you must use VOX (which can be difficult to get setup due to the restrictions on audio input level to avoid distortion).  In the former typically the modulation source has not been setup correctly.
The key to success is getting a bunch of settings inside the radio to match a bunch of settings in your digital mode software.  In this case, I'm describing WSJT-X (Version 1.6.0), the latest software from K1JT that supports JT65, JT9, and WSPR.
Begin by getting your IC-9100 Menu Settings set properly:
Menu 56 USB MOD Level "25%"
Menu 58 DATA OFF MOD "MIC"
Menu 59 DATA MOD "USB"
Menu 60 CI-V Baud Rate "19200"
Menu 61 CI-V Address "7Ch"
Often, older software doesn't allow the correct default value of the CI-V Address (7Ch) to be used, but WSJT-X is expecting that address to be used when using the IC-9100.
Note that the USB MOD Level of 25% is going to be close, but your particular radio might need some adjusting.  The way you figure that out is to get the radio into transmit mode (perhaps using the "TUNE" button in WSJT-X) and adjusting the USB MOD Level until there is ZERO ALC on your meter.  If you are showing ALC action, then your transmit audio is going to be distorted.  It is a VERY sensitive adjustment.  27% causes mid-scale ALC in my case.
Likewise you are going to have to adjust the incoming level as well.  Usually I run with AGC turned off (this prevents stronger signals from blanking out the display).  If you are a "all knobs fully CW" sort of operator that will either blow out your speaker, or damage your hearing if you keep the RF gain at maximum.  Turn the RF gain all the way down, then turn off the AGC.  Slowly ramp the RF gain up until the WSJT-X incoming level meter is right around mid-scale when no signals are being received. (Note the blue slider control to the right of the meter should be at mid-scale.)  In my case, with the AGC turned OFF, a setting just beyond 9 O'clock will cause a mid-scale audio input level (I will see +40 to +50 during the active part of the JT65 minute).
The WSJT-X Radio Settings look like this for the IC-9100 (my lower COM port is COM5):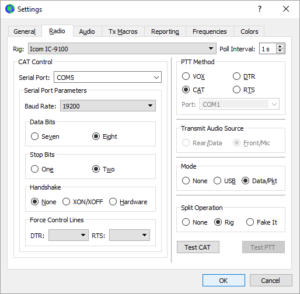 The WSJT-X Audio Settings look like this for the IC-9100