UZ7HO's SoundModem program is automatically installed when you install UISS.  It's a program that converts the audio tones sent/received into AX.25 data that can be understood by UISS.  To use SoundModem requires a few simple setup steps.
When you first startup UISS, it defaults to using SoundModem and starting it automatically as shown in this UISS Setup screenshot: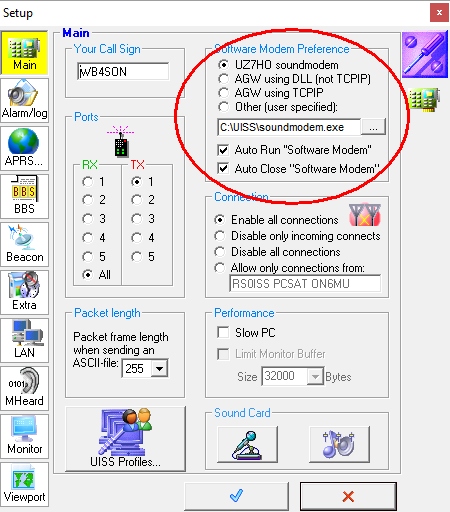 When you first startup UISS, you will see the SoundModem program, and that is your opportunity to do a setup.  If you missed your chance, either startup UISS again, or find the SoundModem icon in your system tray: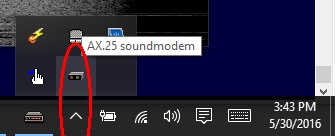 Click on Settings/Devices to setup your sound cards.  In my case the IC-9100 internal sound cards show up as "USB Audio CODEC".  Pick those choices for Output Device and Input device as shown below.  Also be sure to leave the AGWPE Server Port set to 8000 and the Enabled checkbox checked. Without server identified and running SoundModem will not communicate with UISS (This Port Number is what AGWPE would need to know — AGWPE is not actually installed or running).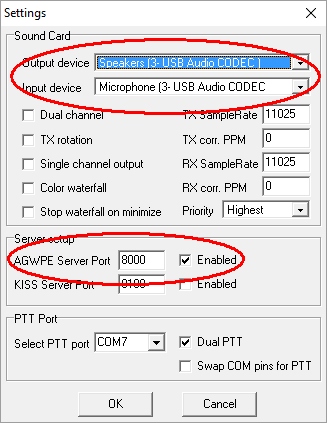 You must identify the COM port that is being used for PTT control. In my case that is COM7 as shown above.  I believe the "Dual PTT" says that RTS is used for one port and CTS for another — I left it checked.  See my earlier post on installing CAT7200 to deal with PTT.
Still in SoundModem, click on Settings/Modems to bring up the Modems settings menu.  The Mode defaults to HF AX.25 packet for both channels A and B.  I set channel A to be VHF 1200 baud as shown below: